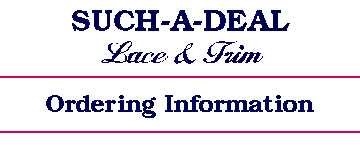 All the prices listed on our web site are based on a $50.00 (US) minimum order AND full put-ups as noted on each catalog page.
Orders less than the $50.00 minimum are subject to a $10.00 (US) service charge.
All prices are listed in United States currency.
All orders within the continental United States will be shipped by default via Federal Express Ground Service or Priority Mail all depending on the weight of the shipment. Shipment upgrades are available upon request. All orders shipped outside the continental United States will be shipped via Priority Mail or Express Mail depending on the destination. Other methods of shipment outside the United States may be requested if the customer has an alternate relationship with a carrier in which we have access to - such as Federal Express or DHL Worldwide.

All orders can be paid by Credit Card (VISA, MasterCard, Discover or American Express), Pre Paid or PayPal (we will get back to you via e-mail or phone call with the exact total in both cases), or C.O.D. (cashiers check or money order only). There is a $11.00 (US) C.O.D. fee. Terms will be considered for volume accounts upon credit approval.
All shipping and C.O.D. charges will be paid by the customer. Actual shipping charges are based on the actual weight or the dimensional weight of the package, whichever is greater. Orders shipping to destinations outside the United States must be pre-paid in United States currency by either wire transfer of funds to our bank, PayPal, or by credit card only. There is a $30.00 (US) fee for all wire transfer payments. International customers will be responsible for all customs, duties, taxes, and fees.
SUCH-A-DEAL Lace & Trim offers a free ground shipping allowance for any order of $200.00 or more to anywhere in the United States and its possessions of up to 10% of the total order. For example, if your order is $250.00 you will have a $25.00 allowance on ground or priority mail shipping depending on the destination. A $500.00 order would give you a $50.00 allowance and so on. As mentioned previously, all international customers outside the 50 states will be responsible for all customs, duties, taxes, and fees.
Sales tax will be added to all orders shipped within the State of California unless a California State Resale Tax number is provided.
At the bottom of every one of the catalog pages, below the pictures of the products shown, it will list the prices and minimum quantity increments (put-ups) that you will need to purchase in order to get the pricing shown on that particular item.

Some example's of what you might find as our standard put-ups will include:

1) Ruffled (or gathered) laces are sold loose in approximately 30-yard plastic bags.

2) Flat laces are sold by the full spool or loose in 50 yard bags.
3) Satin ribbons are sold by the full spool only.

Each category page will give you all the details you will need to make an informed decision as to what you will need to purchase to get the prices that are shown for that product.
The styles shown on our site are some of our most popular items. If you are looking for a specific style, color, or trim that may not be shown here, e-mail an attachment, fax, or mail us a swatch or xerox of that item, and we will get back to you with price and availability. The various ways in which to reach us can be found on our contact page.
Please be aware that every effort has been made to fully represent the colors you see on our color cards. Please understand that the colors you see are only representative and may vary in shade depending on which browser and/or monitor resolution settings you have on your computer. Your personal familiarity with color names should help you in determining the correct color shade. If you are unsure about a color, you may request individual color swatches, but do keep your requests to a maximum of 10 at any one time.
Due to circumstances beyond our control, we cannot guarantee the dye lots of any item we sell. We make no warranties or guarantees as to dye ability, colorfastness, shrinkage or wash ability. CUSTOMERS MUST PERFORM THEIR OWN TESTING. We cannot be responsible for any consequential damages since the value of the trim is so disproportionate to the value of the item on which it is being applied.
All prices are subject to change without notice.

All prices are either by the linear yard, the piece, or by the pair, depending on the item.
Returns or exchanges will not be accepted without prior authorization.

All returns are subject to a 20% restocking charge.

All returned checks are subject to a $25.00 (US) returned check fee.
Thank you for your interest in
SUCH-A-DEAL Lace & Trim.

We look forward to working with you!
---

Back to Top Order Form Home

---

Copyright © 1996-2013 SUCH-A-DEAL Lace & Trim - Last updated 1/9/2013
---